Window Week
We had all of the above grade windows in our house replaced on Friday. It's been a really busy week.
I came home Thursday after a half work day, and spent the balance of my waking hours preparing the house for window replacement to start early Friday morning. All the window coverings (but for the master suite, which I held up until 7 AM Friday) were remove, cataloged and set aside (there's a story there, hang on…) Everything not nailed down was mostly moved at least three feet away from all the window openings, to facilitate the work. A fragile cabinet in the dining room was left in place, but I removed the glass doors and covered it with cardboard. My home office cabinetry is in a fairly permanent state, so they just had to work around that. Still, a sweaty, sweaty few hours. Good workout. Lexi's normal look-out chair was moved, but that didn't stop her from following her watch dog routine…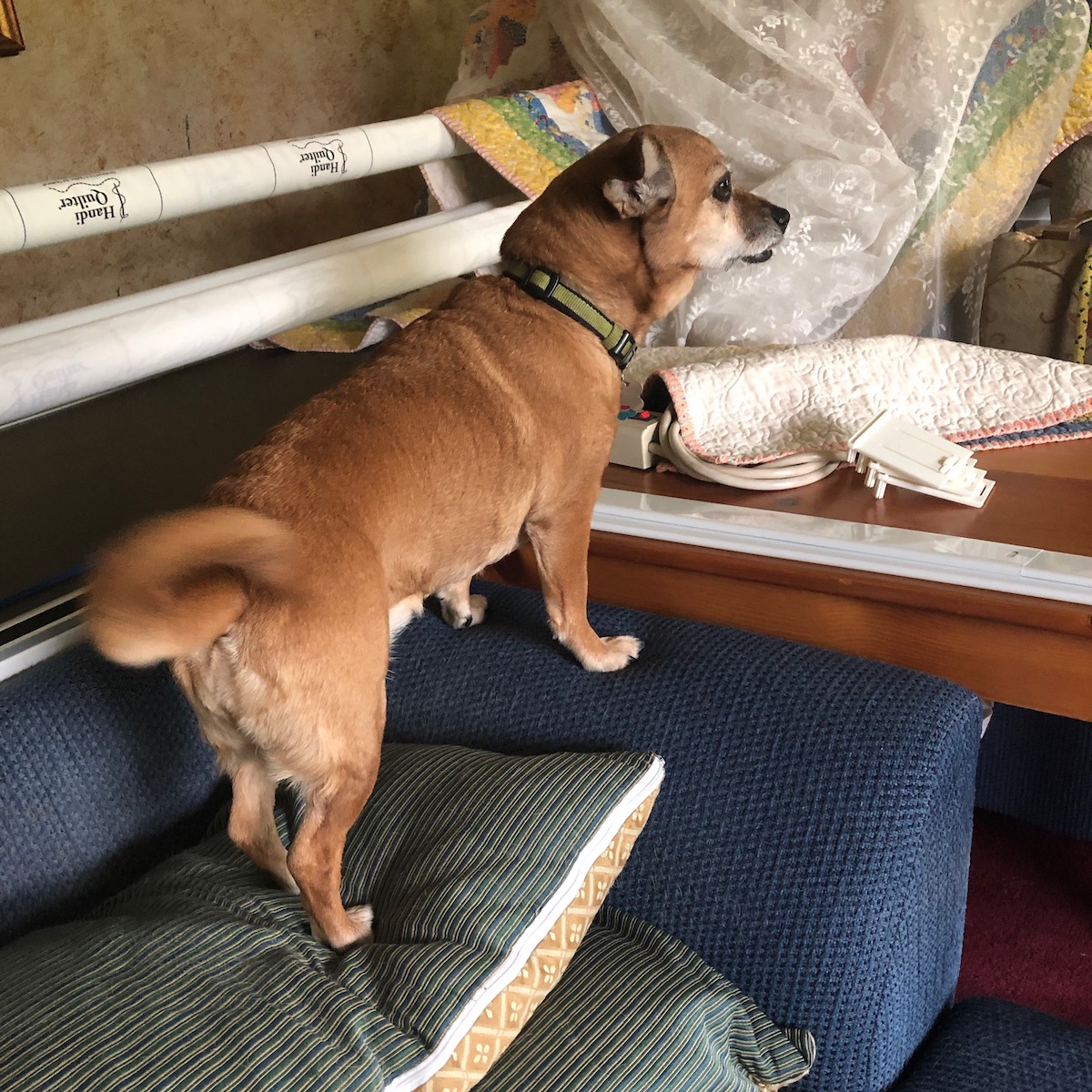 Friday, we were up at the normal work day alarm time of 0545. Brewed the coffee, walked the dog and got a bite of breakfast, then it was time to do the last of the window coverings, and patrol the house for things that needed to be secured and/or gotten out of the way. Cars out of the garage and out of the way, parked on the street. We were ready! Spot at 0900, the crew from Window Nation showed up. Those five guys started right in, tarping things and setting up – they worked their asses off for 10 hours with a short break for the pizza we had delivered for lunch. Nineteen windows replaced, insulated, wrapped in bent-on-site-to-fit aluminum, and caulked. Impressive amount of work. This would have taken me a year of Sundays to do on my own, and I might have started getting good at it by the end, then I'd have to go back and do most of them over, right. So, winner.
Saturday and Sunday have been full of me putting things back inside. Some notes about that: Turns out that getting things down and out of the way is easy compared to putting them back. First of all, when putting back, cleaning should be done. So, as I did each room, cleaning came first, middle, and last. Mostly vacuum and dust rag work, but occasional cleaning products were brought to bear on the issues at hand. Then there's the minor flaws that really should have been dealt with years ago, but there's no time like the present. For example, that filing cabinet in Marcia's office always should have been affixed to the wall via a bracket. It is now. Last, but certainly not least – window coverings.
Turns out that the vinyl replacement windows, while better in every way than the builder grade aluminum ones from the late 1980's, fit into the opening in such a way as to make the interior window well a lot shallower than before. Too shallow to use almost all of the blinds we had in place. Now, to be fair, some of the blinds we installed when we moved in 15+ years ago. And some of them were … older than that. So they were crufty, crusty, and a lot of them were malfunctioning a bit, just like the windows that we replaced. So Saturday morning we went off to a big box store and spent several hundred dollars on assorted window blind products for the twelve upstairs windows. The downstairs ones didn't have inset blinds and for the most part we could reuse the prior curtains (for the time being). Almost all of those, and almost all of the rooms have been reassembled now. And I'm tired.
Winding Down
Our condolences to the family and friends of Pfc. Michael A. Thomason, 28, from Lincoln Park, Michigan, who died on April 29, 2019, in Kobani, Syria, of wounds sustained from a non-combat incident.