An Eventful Fourth
As holidays go, this one was less than stellar. We started by trying to get out fishing early. Sadly, our local favorite hole had a "Gate is not operating" sign up. Perhaps they just didn't want to deal with holiday crowds while on holiday staffing (it's a pond on a local preserve, requires special permits, etc).
Meantime, right after breakfast, we'd found out that the flush mechanism on the main floor toilet was busticated, so a new flush handle was on our list. So we left the failed fishing hole, and dropped by the poor second choice hole. Once there, we threw lines in and were utterly untroubled by fish for the hour or so it took the humidity to rise to intolerable levels. To be clear, those levels are variable. They'd have been fine if we'd been catching fish or even getting bit. But no such luck. So off we went.
A stop to tank up Marcia's car, then Home Depot for the toilet part, then back home. The fix for the toilet was quick and painless. After a boring lunch, we were relaxing in front of the TV when we both heard a weird noise. Hmmm. After a bit of exploration (it's difficult to locate the source of a non-repeating noise), I found the cause: The garage door torsion spring had expired. Fortunately, there was just one shear point – the spring had NOT exploded into shrapnel peppering our cars.
Now let me describe the next three hours, with relative brevity:
I moved the cars a couple of feet toward the back of the garage, to make room for me and a ladder.
I disconnected the door opener, and freed the door from it.
I dismantled enough bits to extract the broken single spring from the bar, and put it back together without a spring for the time being.
I went to lift the garage door so that I could get the cars out, since we both needed to be out and about on Friday.
It's about here that the story goes sideways.
Turns out that a well-insulated two-car garage steel sectional door is pretty damn heavy. And I didn't have a handle installed, inside or out. Being handy, I have handles and self-tapping metal screws laying about in the basement. Bad news: A handle didn't help. Even threading a towel through it to get a better grip and leverage only enabled me to raise the door only a couple of inches. I was on the path to kicking a two-by-four underneath and slowly raising the door when I realized two things: I was putting my back at risk doing this, and lowering it again, safely and without damaging the door, might be unlikely.
So instead I dismantled the door from the top segment on down (drill-mounted socket set for the win), stacked the segments up against the bumpers until done, then walked them all outside onto the lawn. Hmmm. Did I mention the torrential downpours combined with thunder and lightning? I though I might have missed conveying that little detail. Anyway, the path was clear and I pulled both cars down the driveway, moved the segments back into the garage, and reassembled the door.
Using the bits of spring, I identified the type and rating of the single right-wound spring that had been installed with my door. I've ordered a matching pair of them (right- and left-wound) and winding bars – they'll be in on Tuesday. Why a pair? More to the point, why install just one? I've ordered a pair that individually match the spec for balancing out my door. I'll install both, and wind them with about half the turns that the single spring had, then adjust to the correct balance. That'll buy me two capabilities (with luck): less loaded springs should be less prone to catastrophic failure, and if one of them DOES fail, then I still have a backup already mounted, and should be able to wind it a bit more, and get the garage door open and shut while I wait for the next set of replacement springs.
Whew. A shower, a light supper, and I was ready for my "holiday" to be over. But instead, we had alternating thunder storms and idiots with fireworks keeping me awake, mostly by freaking out the dog, until the wee hours of the following morning. Yay?
Work on Friday, yardwork on Saturday, and a "five dog house cleaning" today filled out the balance of the week. What is a "five dog house cleaning," you ask? It's a count of the number of times I have to empty a full container of dog hair from the vacuum cleaner's collection bucket. Each one is sufficient to construct at least the outside bits of another complete dog. Getting caught up on the cleaning is good. Getting this far behind is a bit sad.
Gratuitous Lexi Photo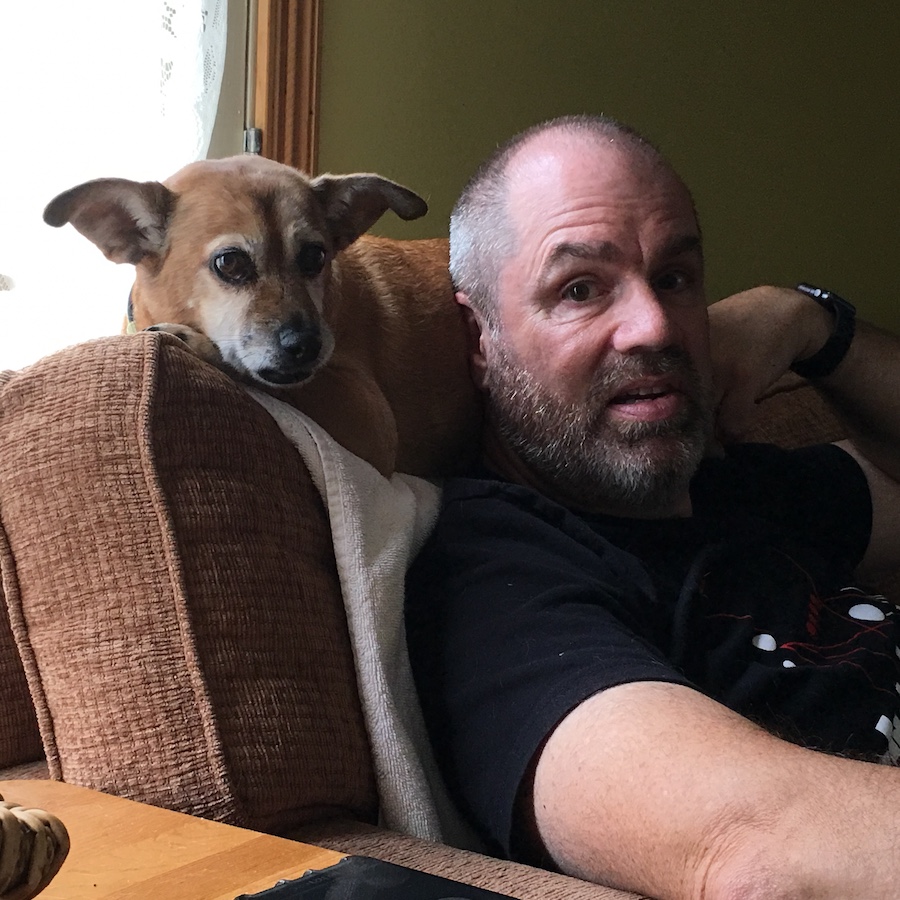 Winding Down
Our condolences to the family and friends of Sgt. 1st Class. Elliott J. Robbins, 31, from Ogden, Utah, who died on June 30, 2019, in Helmand Province, Afghanistan, from a non-combat related incident.