Long Time No See
Yes, yes. Everyone's been busy, not just me. There are a couple of items of interest, but let's start with the pretty one: A sunrise on Cobbosseecontee Lake in Maine.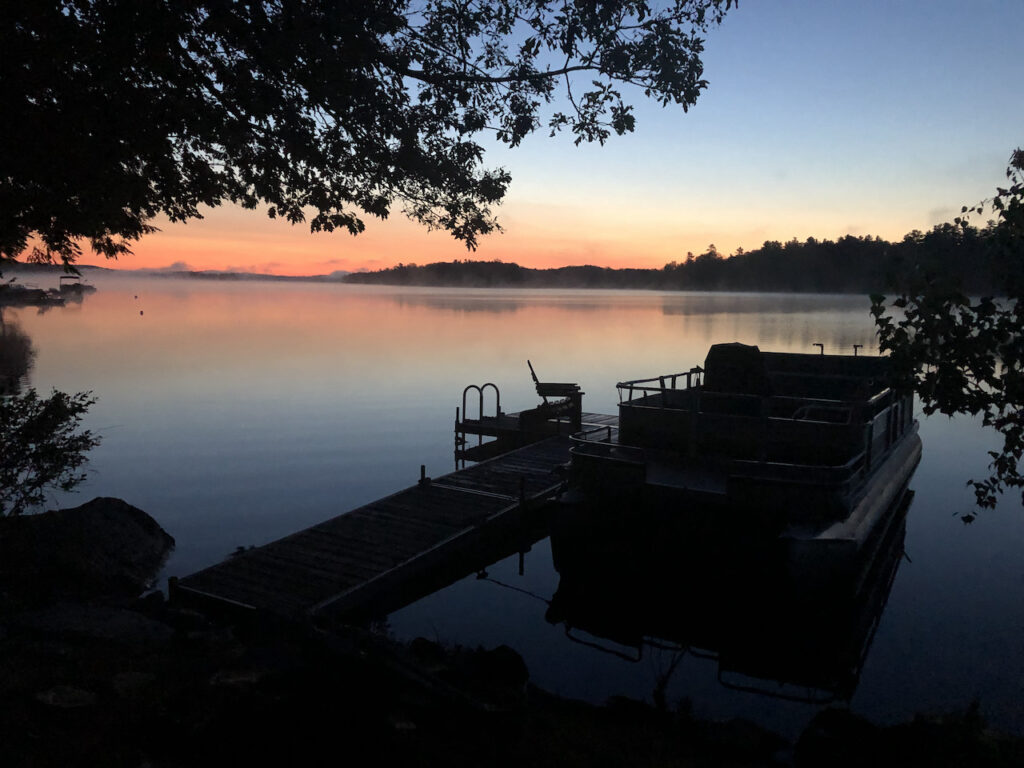 We went up for two weeks in mid-July. The drive each way was terrible – best part of 12 hours in both directions. North, we could never figure out why there was a horrendous backup from Massachusetts all the way up into Maine. The twelve miles of New Hampshire on route 95 alone took nearly 45 minutes. Whoo! But we had a lovely time, motored around the lake aboard Nancy's party barge (aka pontoon boat), and caught a few bass. And when it's pretty, it's really, really pretty. Exhibit A: that sunrise shot I took at 04:41 AM, the morning we were departing for home.
Item of interest, the second: We've also been house hunting up in those parts. Like many parts of the country, housing inventory is in short supply, and the houses that do hit the market tend to go fast and for top dollar, with multiple bids. We went to see one the day after we arrived, having put in a sight-unseen backup offer (since one offer had already been accepted) on the house based on photos alone. Our backup offer was contingent on seeing the house and liking it in person. Sadly, we didn't. It would have been close to top of our budget, and we had promised ourselves that for top of budget, the house and land had to be nigh-unto perfect. That one wasn't, and we withdrew that backup offer. We saw several others, but none really fit our needs or our budget. There's one that we are interested in, but waiting to see some paperwork to determine if a deal can be done. And that one won't be available until next year, which is both good and bad. We'll see what happens.
More news when it happens. I've got to go through the other pictures and find a few to share on a different day. I'm still catching up on chores – yesterday was yardwork, and that would have been today too, but for the rain. So house cleaning it is.
Be well.